In the exhilarating world of Brazilian Jiu-Jitsu, there are champions, and then there is Mestre Deninho. Once again, he has proven his dominance by once again being #1 Ranked in the world. Deninho's journey to the pinnacle of BJJ has been nothing short of awe-inspiring, and his relentless dedication and skill have earned him a place among the all-time greats.


Mestre Deninho's path to becoming a world-class Brazilian Jiu-Jitsu champion has been marked by unwavering dedication, countless hours on the mat, and a relentless pursuit of excellence. Under the guidance of some of the sport's legendary masters, he honed his skills and developed an indomitable spirit that would propel him to greatness.

Throughout his career, Deninho faced formidable opponents and overcame numerous obstacles, but his unyielding determination and passion for the sport set him apart. He understood that success in BJJ demanded not only technical prowess but also mental fortitude, resilience, and a deep understanding of strategy and technique. With every match, he continued to evolve, refining his techniques and expanding his knowledge of the sport.

The 2023 World Jiu-Jitsu Championship was the stage for Mestre Deninho's latest triumph. Competing against a field of elite athletes from around the globe, he showcased his unparalleled skills. With precision, agility, and strategic brilliance, Deninho navigated his way through a series of challenging matches, each one a testament to his commitment to the sport.


The Legacy Continues

Mestre Deninho's remarkable achievement in 2023 adds another chapter to his storied career and solidifies his legacy as one of the greatest Jiu-Jitsu practitioners of today. But his impact extends beyond his impressive record and numerous titles. Deninho has become an inspiration to aspiring BJJ athletes, emphasizing the importance of discipline, dedication, and a deep love for the sport.

As he basks in the glory of his latest victory, Deninho remains as humble as ever, recognizing that his success is the result of a collective effort that includes his mentors, training partners, and the support of his loyal fans. He continues to give back to the Jiu-Jitsu community by teaching and mentoring the next generation of athletes, ensuring that the art he loves so dearly will thrive for generations to come.

Mestre Deninho's triumphant performance at the 2023 World Jiu-Jitsu Championship is a testament to the enduring power of dedication, passion, and an unwavering commitment to one's craft. As we celebrate his latest achievement, we are reminded that true champions are not defined by their victories alone but by the impact they have on their sport and the inspiration they provide to others. Mestre Deninho, congratulations on your 8th year on the podium, and thank you for your continued dedication to the art of Brazilian Jiu-Jitsu.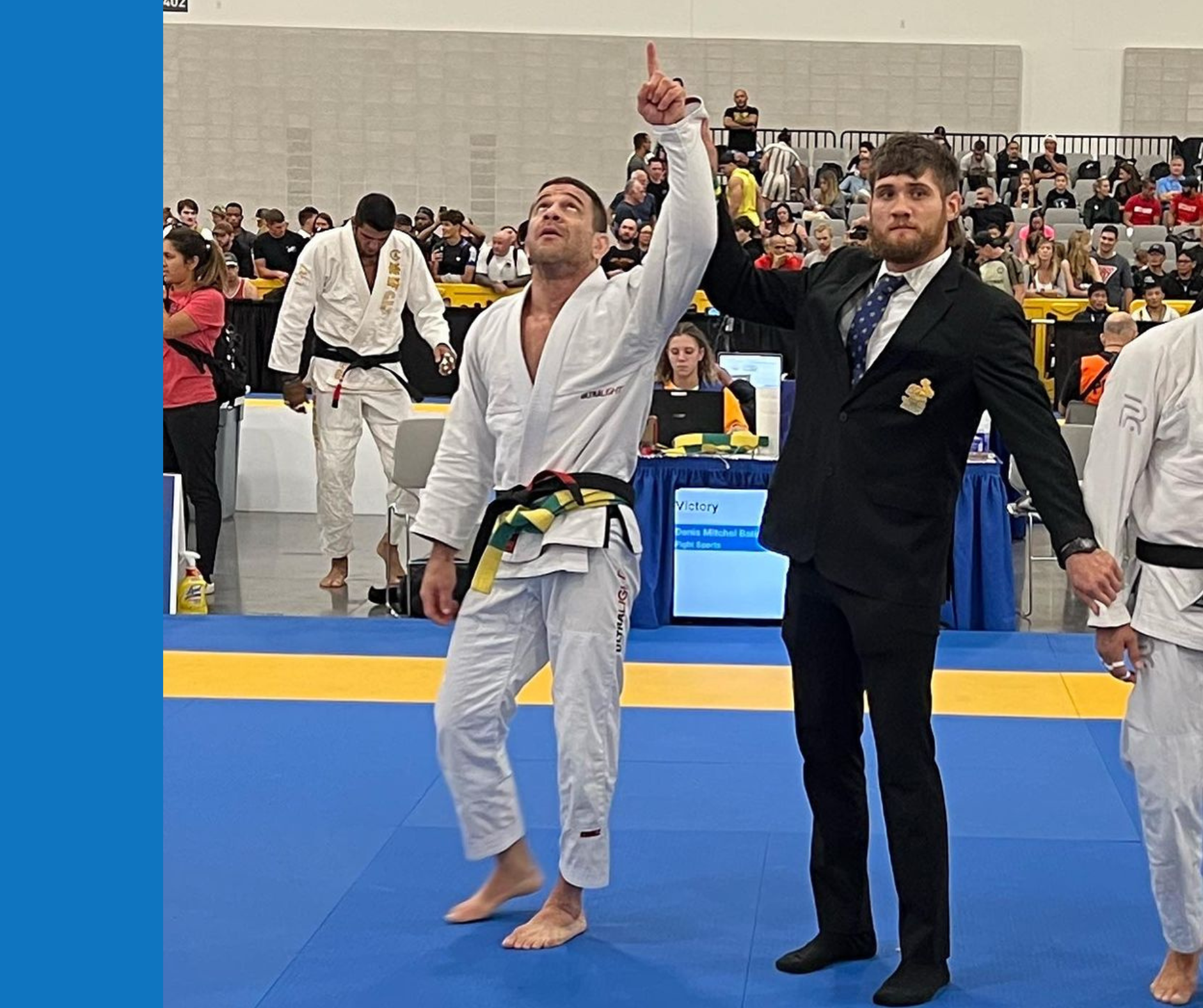 Don't miss the unique opportunity of a lifetime to train with a Brazilian Jiu-Jitsu champion at Global1BJJ. It's not every day that you get the chance to learn from someone who has reached the pinnacle of this martial art. This is your golden ticket to immerse yourself in the world of BJJ and absorb the knowledge, techniques, and wisdom of a true champion. Whether you're a seasoned practitioner or a beginner, training with a champion can take your skills to new heights and provide invaluable insights into the art of Brazilian Jiu-Jitsu. Seize this rare opportunity, and let the champion at Global1BJJ guide you on your journey to becoming the best version of yourself on the mat!
You can come and try out a class with us, sign up on Whether you are a seasoned student or new student eager to learn, come try a class with the best BJJ in Naples.