Brazilian Jiu-jitsu schools are not just for adults, but most often offer kids and teens classes too. The popularity of kids BJJ is becoming apparent as more and more parents enroll their kids for martial arts classes. The most obvious benefit martial arts for kids is for them to get active, build their strength and flexibility in a safe environment. Another benefit of BJJ is for kids to learn how to listen as respect teachers as well as their peers. Being a part of a club also helps develop teamwork and creates lifelong friendships. It is also a way for kids and teens to develop confidence, improve focus, and learn how to deal with bullies by defending themselves even if they are in a compromised position.
Brazilian Jiu Jitsu is made up of a belt ranking system that enables children to track their progress through the Martial Art. Kids, like adults begin as white belts which have no prerequisites. The white belt signifies the beginning of their journey. As they go through the rigorous training program and learn the series of movement, they go up in belt rank. Each of the belt colors are variations that indicate a certain level of experience. Compared to adults, there are more kids ranks because they tend to be much more reward-oriented than they are results-oriented. Progressing though belts help kids create a sense of accomplishment.
Each student learns differently and moves through the program at their own pace. The many-colored belts help kids set reachable goals and keep kids engaged in BJJ. Since it takes significant amount of time to journey through the belts in BJJ, the kids also develop patience and try their best to succeed. These traits will carry on as the child transitions to a young adult and into adult life.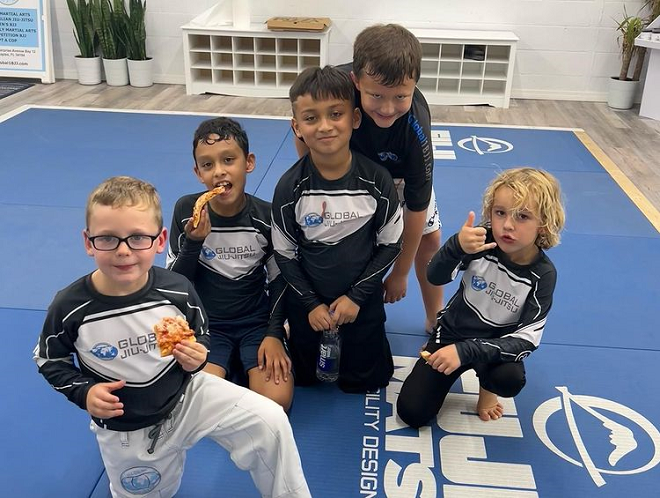 Global BJJ kids Brazilian Jiujitsu classes in Naples focus on developing children both physically and mentally. Through our kids BJJ lessons, children and teens develop discipline, respect, self-confidence, and focus.

Global BJJ Naples kids Brazilian Jiujitsu